Proud member of the
Zumba Instructor Network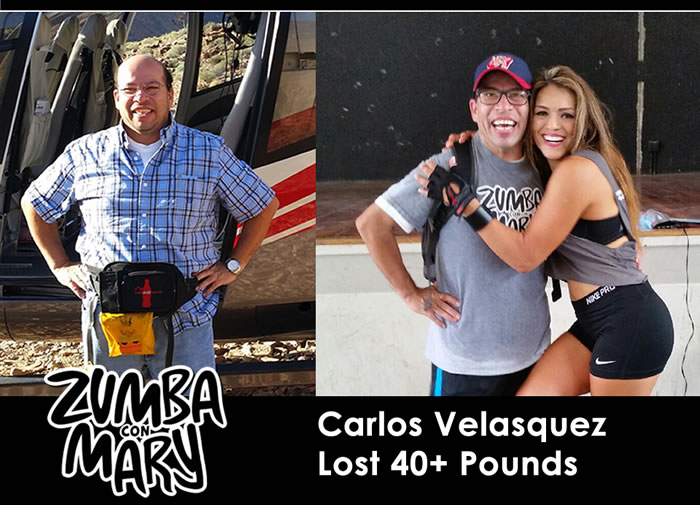 When last January I had pains in my joints I went to the doctor. He explained to me I had early osteoarthritis . The plan was to exercise, eat healthy and drink water. Take a course in nutrition and change my diet. I started to drink water more frequently and take my Zumba Classes and also walk at least an hour a day . The result 40 pounds less weight and the satisfaction of feeling healthier. To do this it is important to have willpower to achieve a better quality of life.

Cuando en enero pasado tenia dolores en mis coyunturas fui al doctor. Tenia inicios de osteartritis. El plan era hacer ejercicio, comer saludablemente y tomar agua. Tome un curso de nutricion y cambie mi dieta. Empece a tomar agua con mas frecuencia y tome mis clases de zumba y tambien camine almenos una hora al dia. El resultado 40 libras menos de peso y la satisfaccion de sentirme mas saludable. Para hacer esto lo importante es tener fuerza de voluntad para lograr una mejor calidad de vida.



Carlos Velasquez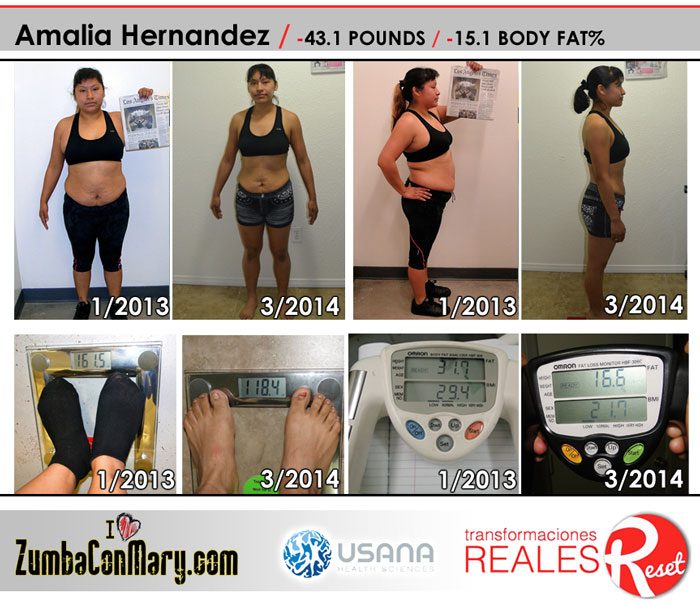 My weight problem started once I had my first baby. U just couldn't stop eating. My problem had began and my eating habits were so bad I often visit fast food restaurants because I had to work, most likely all day and didn't have time to cook.

I needed my life to change, it was really necessary to lose weight because I had often had headaches. I decided to change my life for my family and especially myself. I chose to join ZUMBA con Mary classes and after two months of workout, Mary motivated me to lose weight by using USANA.
USANA is the easiest way to lose weight, helping me wiht a better digestive system. Now I can say I feel healthy and I have a better lifestyle. Tips for keeping you fit and healthy, eat vegetables and drink lots of water. I was able to lose 45 pounds.

Amalia Hernandez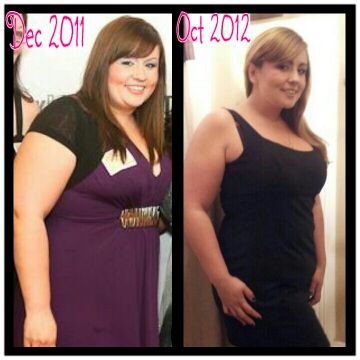 My whole life I have been up and down with my weight. It was always one of my biggest struggles and took a huge toll on my self esteem. I tried many different things from diet pills ,weight watchers, and alot of different fad diets. All would help briefly at most I would lose 15 lbs. only to give up and gain it all back if not more.

In march of 2011 I moved to Montebello with my sister and we decided we wanted to do a hip hop aerobic class, so I decided to check out what my city had to offer. I came across a Zumba class and thought what the heck ill give it a try.

My sis and I started attending Mary's classes and I remember I could hardly get through it without feeling outta breath every few minutes. I remember thinking what did I get myself into. My sister and I attended classes off and on for a while. At that time it just was something to do. It wasn't until April of 2012 after attending my companies annual formal banquet , I had seen pictures of myself posted and literally felt so sick and disgusted with myself. I couldn't believe I had allowed my self to get so big and I could feel how unhealthy I was ...I told myself something needs to be done ...so I signed up for zumba 3 days a week and started back on weight watchers I lost 10 lbs and was pretty much stuck there .So I decided the following month I would do 5DAYS!!! of Zumba a week .

I posted something on Facebook about my new plan of going from 3 to5days and that is when Mary reached out to me and offered to help me in my weight loss journey .. She invited me to her home where she educated us on our health and what we can do to live a healthier lifestyle. That is where she introduced me to USANA and the reset pack. I decided to try it and boy was I not looking forward to 5 days of shakes and no food .. lol .. The first 2 days were the hardest but come day 3 I was good.. feeling great and energized. I remember prior to the reset I would want to sleep all the time .. it was a struggle to get up and do something. Once I started the reset I would wake up at 5am thinking to my self "OMG why am I awake. It was thanks to the vitamins that came in my reset they were the best thing ever.

. After I completed my reset I had lost a total of 8lbs in the 5days not only that I could tell my cravings for sweets and carbs were so minimal if not gone.. It really gave me the kick start I needed to get going on my weight loss plan. From there I continued on a low calorie diet and Zumba has become my addiction and Mary has become a friend and awesome motivator.. She has helped me so much along the way not only with Zumba but with knowledge on how to be healthier.. I think if I hadn't met Mary and become part of her Zumba family I wouldn't have gotten this far.. I can now make it through her full hour class without feeling like im going to collapse .. if anything I want to stay and do another hour.

Today I am half way through my weight loss journey I have lost total of 48lbs . I plan on losing 60 more .. and working on not only being a healthier person but teaching my kids how to live a healthy life..

I cannot thank Mary enough for all her support along the way .

THANK YOU



Mandy Martinez-Escobar.
---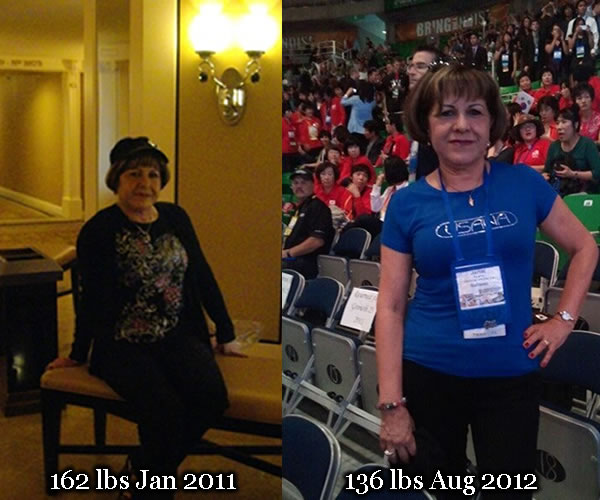 COMO ME A AYUDADO ZUMBA
MI NOMBRE ES ANA BAÑUELOS Y GRACIAS A "ZUMBACONMARY" SOY UNA PERSONA MUY SALUDABLE. ¡GRACIAS A DIOS QUE USO A ZUMBA COMO UN MEDIO PARA MEJORAR MI SALUD! LES VOY A COMPARTIR ALGO DE MI VIDA: PRIMERAMENTE, ANTES DE ZUMBA MI COLESTEROL ESTABA MUY ALTO, MI CIRCULACION ESTABA MUY MALA Y ESTABA SUBIENDO MUCHO PESO; ME CANSABA MUY RAPIDO, NO HACIA NADA Y ME FUI DEPRIMIENDO. UN DIA UNA AMIGA ME DIJO DE IR A ZUMBA; FUI, PERO DE MALA GANA Y CUANDO LLEGE A LA CASA ME SENTI ALEGRE PORQUE LA MUSICA, EL BAILE, Y LAS PERSONAS QUE ESTABAN AHI ME HICIERON SENTIRME BIEN ESPECIALMENTE MI MAESTRA. POCO A POCO, ME DI CUENTA QUE MI DEPRECION HABIA DESAPARECIDO; MI COLESTEROL BAJO DE 320 A 160 Y NO TENGO MAS PROBLEMAS CIRCULATORIOS. DESPUES DE VARIOS MESES DE ESTAR LLENDO A LA ZUMBA TENGO AMISTADES MUY BONITAS Y AMIGAS ESPECIALMENTE MARY.
ANTES DE LA ZUMBA YO PESABA 162 LIBRAS Y AHORA PESO 136, DE ENERO 2011 HASTA AHORA. DESPUES DE 3 MESES LLEVE A MI HERMANA MARIA GALVAN (COCO); PARA NO HACERSELAS LARGA, MI HERMANA TIENE 66 AÑOS Y ACABA DE GANAR $1000.00 DOLLARES POR BAJAR DE PESO 28 LIBRAS EN 8 SEMANAS. NO SOLO GANO DINERO PERO GANO SALUD. FUE UNA BENDICION CONOCER A MARY COMO INSTRUCTORA Y AMIGA!
ESTAMOS MUY CONTENTAS DE PERTENECER A ZUMBACONMARY.


---- Ana Banuelos
---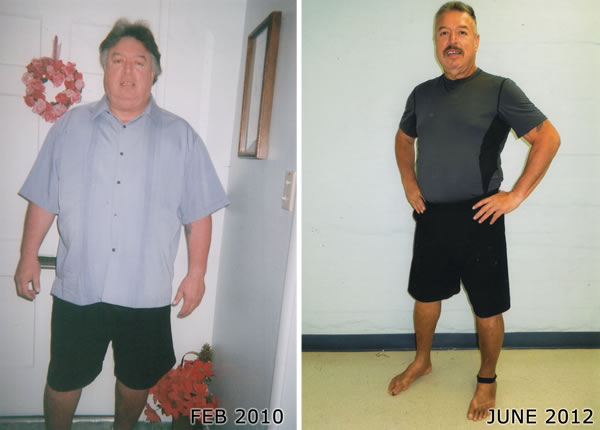 My name is Alex Romero and I have been overweight for many years. Feeling depressed, discouraged, and frustrated at being 325 pounds, I joined a weighloss club and wasn't making any progress until I found a workout buddy Patti, who introduced me to the Zumba Gold class offered by Mary. Once I got into the swing of music, my weight started pouring off like crazy. My support group and its lessons started to make sense. Ive changed my heating habits, started walking, dusted off my bike and put it to work; then I graduated to the regular zumba class.
I can't tell how much I enjoy Zumba. I love dancing and everyone in the class is awesome. I've set my goal weight at 225 pounds that will be a loss of 100 pounds . I am currently at 245 pounds and only 20 away from my goal. I am most thankful for being so inspired by my Zumba Buddies.
-- Alex Romero
---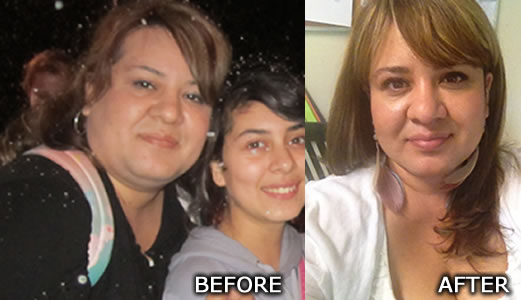 Growing up I was always very active. Since I was 5 years old I competed in swimming and never had to worry about my weight. After two children, and not eating correctly, my metabolism completely stopped working. I went from weighing 125 lbs to over 175 lbs. Diabetes, High Blood Pressure and Heart Disease runs on both sides of my family and I always had that in the back of my mind but never acted upon it. Four months ago, I decided I needed to get a complete medical check up. Visit one through three didn't go well. I was having joint pain, my ankles were constantly aching and I knew I was not digesting my food correctly. Along with the issues I knew about, my doctor tells me that my blood pressure was high. Two weeks before I started Zumba, my doctor said to me "if you come back in two weeks and your blood pressure is still high, we are going to have to put you on medication". That day I came home feeling depressed and like maybe I wouldn't live to see my girls get married or become mothers. I decided that night to make a change, but I didnt know what.
As usual, that night I went on to my facebook page and the very first post was from my best friend from High School, Laura. Laura was checkin in to Zumba. I posted a comment that night, and it has truly changed my entire life. I asked Laura where she was going and if she "liked" it. Laura responded and had nothing but good things to say. The day after I signed up for Zumba con Mary. Two weeks after starting Zumba, I went back to the doctor for a blood pressure check. The nurse was shocked to say the least. My blood pressure was normal! The following week..... Normal! That meant no medication. I left the nurses station that day giving the nurse and her colleagues Mary's information. Now, I have minimal joint pain, my ankles are about 75% better, I'm losing weight and people are noticing! I get complemented a lot. Its had a ripple effect on a lot of the people in my life, and they now are dancing the weight away too! It takes me over an hour to get from Chinatown to Montebello for class with Mary, but it's well worth it. I wouldn't go anywhere else.

-- Liana Lopez- Velasco
If you have some testimonials that you would like to add about my classes, please forward them to me and I will post them on my site. Thank You